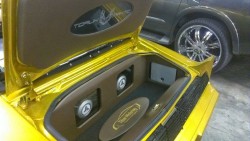 Are you interested in upgrading your car audio? Whether you prefer Pavarotti, N.W.A., or Taylor Swift, Titan Motoring is your source for car audio installation in and around Nashville. We're committed to giving you the listening experience you're seeking. Our team is one of the most experienced around, with 120 combined years working with car audio systems. Our custom car audio offerings include a wide selection of components, and we'll be happy to talk you through the options available to you and help you make a decision. Our top priorities are the quality of our workmanship and the caliber of our customer service. If you're in the market for a new car stereo, don't settle for anything less! Titan Motoring is standing by to take your call. 
Titan Motoring is committed to meeting your needs through custom car audio. To that end, we carry a vast selection of quality car stereo components from the industry's leading manufacturers. We offer your choice of:
Amps
Subwoofers
Head units
Speakers
Tweeters
Accessories, including iPod integration
We'll always take the time to listen to your preferences before making a recommendation. We want to install car audio products that suit your lifestyle, music taste, and even your budget. Choosing Titan Motoring means taking your ride to the next level—on your terms. Plus, because we offer free cost estimates for all of our services, you have nothing to lose by calling to tell us about your vision for your vehicle.
Superior Car Audio Installers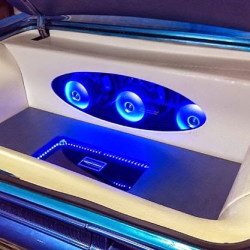 Titan Motoring is proud to be licensed, bonded, and insured for car audio installation and all of the other services we provide. You can breathe easy knowing you're protected by our experience and expertise. For your added security, we stand behind the car audio systems we install with a lifetime guarantee. We want your new car stereo systems to stand up to the tests of time and use, looking and sounding great long after you've driven away from our car audio shop. 
We're a Mobile Electronics Certified Professional, and we're affiliated with the Mobile Electronics Retailers Association and the Better Business Bureau. We'll put our knowledge and experience to work for you. Don't settle for anything less than the best. Get the car audio system that's right for you when you come to Titan Motoring, Nashville's solution for custom mobile electronics!