At Titan Motoring, we offer so much more than just mobile electronics upgrades. We can also install custom car interiors. Whether you don't love the upholstery that came with your vehicle and want to switch to custom leather seats or your existing interiors are somewhat worse for wear and it's time to get things looking great again, we'll be there for you. Our custom car interior specialists in Nashville are experienced, knowledgeable, and skilled. As a team, we have more than 120 combined years of experience working with all sorts of vehicles, and we'll put everything we've learned in that time to work for you. From custom car seats to mobile audio/video components and beyond, we'll turn your vehicle into something you're proud to drive. Ready to learn more? Call or e-mail us today!
Our first step when it comes to custom car upholstery will be to show you the wide array of options available to you. We want you to be completely satisfied with the finished product—not only with how it looks and feels, but also with how much it cost. That means working within your aesthetic, functional, and budgetary constraints to pick the perfect custom leather interior for your vehicle.
The Advantages of Custom Leather Seats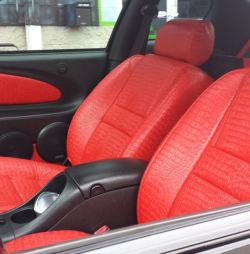 Not sure if leather's right for you? Here are a few of the benefits of custom leather seats:
Comfort: You'll love sitting on that smooth surface.
Ease of cleaning: Wipe away crumbs and spills without worrying about damage to upholstery.
Luxury: Custom leather car seats can make any vehicle feel like a luxury model.
Style: We can give you two-tone seats, custom contrast stitching, and other details to ensure that the vehicle reflects your personal taste.
If you take pride in your vehicle, a custom car interior from Titan Motoring can be just the thing to take it to the next level. Your car will stand out from the crowd with our custom car seats and other features. Let us make the custom car interiors of your dreams into reality.
Leather Interior Installation Pros
In terms of aftermarket vehicle upgrades, we have what it takes to get the job done right. On top of our extensive experience, we're proud to be licensed, bonded, and insured. We're a Mobile Electronics Certified Professional, and we're affiliated with the Mobile Electronics Retailers Association and the Better Business Bureau. For your protection and peace of mind, we stand behind our custom car upholstery installation with a lifetime guarantee. You can breathe easy knowing we have your satisfaction at heart at all times. If you're based in the greater Nashville area, call or e-mail Titan Motoring today to get a free estimate for your custom leather car seats, or whatever else you require!