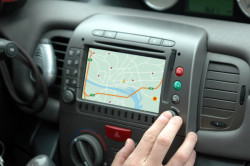 One of the biggest advancements in mobile electronics in recent years has been the rise of the car GPS. Having a navigation system in your vehicle can take the hassle out of getting where you're going. Instead of struggling to read a paper map or having to stop to ask for directions, you can rely on your GPS navigation system to keep you on the right track. But there are a lot of navigation systems on the market. How are you supposed to choose the one that's best for your needs? In and around Nashville, Titan Motoring is your best bet for advice on of all sorts of GPS devices. We're your one stop shop for products and expert installation. Give us a call today to learn more about the options available to you, and to get a free cost estimate for our services!
From hand-held portable navigation systems to in-dash navigation, Titan Motoring has the right model for you. Our knowledgeable sales professionals can work with you to help you find the best solution to your mobile navigation problems. Although each model has its particular features, here are a few included on virtually every GPS navigation system:
Turn-by-turn directions
Voice prompts
Touch-screen operation
Point-of-interest mapping
Automatic rerouting
Searchable databases of streets and attractions

Have you recently moved to the Nashville area? Are you planning a road trip? Are you just bad with directions? Call Titan Motoring to get your navigation system installed and look forward to never feeling lost on the road again. Our custom installation of in-dash navigation and more will make getting where you're going so much easier.
Titan Motoring is proud to be licensed, bonded, and insured for car GPS installation. We're a Mobile Electronics Certified Professional and a member of the Mobile Electronics Retailers Association and the Better Business Bureau. As a team, we have 120 combined years of experience on the job. From hooking up all of the necessary wires to putting the finishing aesthetic touches on the system, we'll make sure your GPS devices look as great as they perform. 
Quality Mobile Navigation Workmanship
At Titan Motoring, quality workmanship is a top consideration. We also care about customer service. Those two priorities come together in our lifetime warranty for all of the services we provide. Your satisfaction matters to us, and that means making sure your new car navigation systems are ready to work hard for you in the long run. Have questions about purchasing a GPS device for a car, truck, or other vehicle you own? Feel free to give us a call for more information. We'll give you results you can trust!