If you're tired of your vehicle blending in when you want it to stand out, custom wheels might be just what you're looking for. Titan Motoring is pleased to install rims and tires for all sorts of cars, trucks, and SUVs. If you're a Nashville-area driver and want aftermarket wheels that will take your vehicle to the next level, don't hesitate to get in touch. We're a licensed, bonded, and insured business with decades of experience among our employees. We'll be able to take you through all of the options available in our wheel shop, showing you different styles and price points so you end up a satisfied customer. Ready to get started? We're standing by to take your call!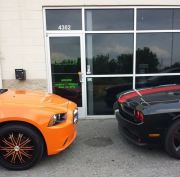 We sell custom wheels and accessories including:
Spinners
Low-profile tires
Colored wheels
Black wheels
Chrome wheels
Performance wheels
Our wheel shop stocks car and truck wheels from the following brands:
Lexani
Savini Forged
Amani Forged
Forgiato
Asanti
American
Eagle
Boss
MSR
Borghini XD
OffroadTuff
Offroad
Rockstar
Velocity
When it comes to custom rims and tires, we're Nashville's source for an unbeatable selection. But that's not all that sets us apart from other tire dealers in the region. We also offer exceptional installation services. Whetheryou come to us for car or truck wheels,we'll give you quality workmanship alongside professional customer service. We're licensed, bonded, and insured to work with aftermarket wheels and custom rims, and we stand behind our work. Plus, we're a Mobile Electronics Certified Professional that's affiliated with the Mobile Electronics Retailers Association and the Better Business Bureau. Your vehicle is in good hands when you choose Titan Motoring.
Free Estimates for Rims and Tires
One of the things that sets Titan Motoring apart from our competitors is the fact that we offer free cost estimates for all of our services. Want to know how much custom rims or wheels will cost you before you make a final decision? We'll be happy to go over our rates with you. It's all part of our ongoing effort to be Nashville's best choice for aftermarket automotive upgrades. Contact us via phone or e-mail to get started!